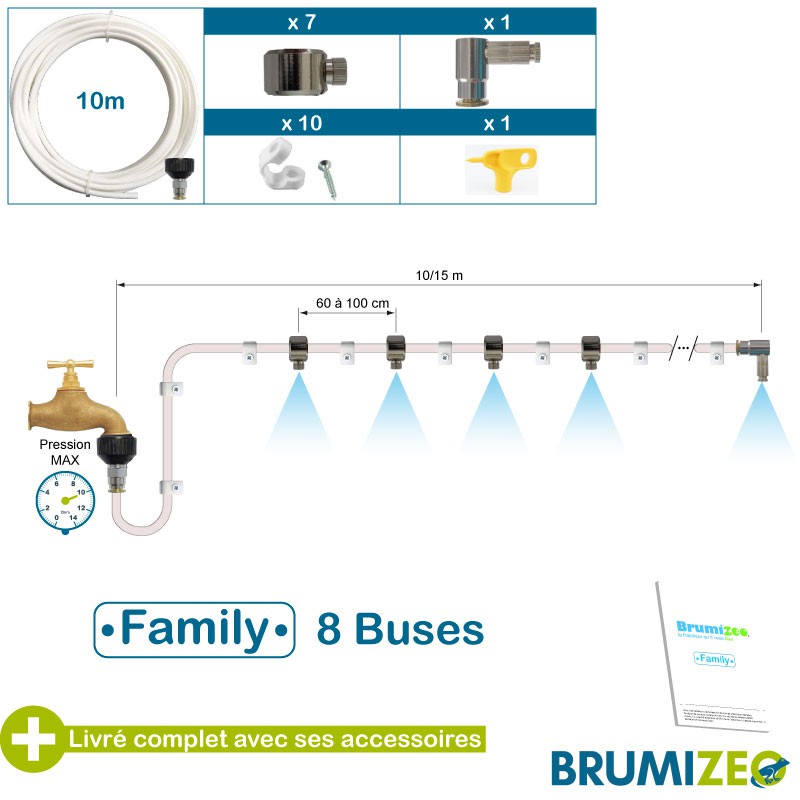 zoom_in
Low pressure misting kit 8 nozzles
The Brumizeo family kit is the only existing system that allows you to enjoy your outdoors during hot weather.
 Thanks to it, your kids will be able to play outdoors without suffering from high temperatures while you will be relaxing by the pool.
Presentation
Easy and Fast to install, your Misting Kit can connect easily to your garden tap and will use your city water pressure. 
Misting consists of atomising water into micro-droplets which, as they evaporate, become a very effective way to fight heat waves.
Water cools down the air by evaporation
Composition
This Misting Kit delivered fully equipped is perfect for a terrace, a garden or even a children playground.
This Kit includes a 10m White Pipe, a connexion to your garden tap, 8 Nozzles and their Holders, 10 fixing collars and a pipe cutter.
Benefits



BENEFITS ARE NUMEROUS :
Lowering temperature up to 10°C

Instant cooling

Repels flying insects such as wasps, mosquitoes, and flies

Reduce Dust

Keep cool and well-being guaranteed
Number of misting nozzles Ø 0.5mm

8

End line nozzle holder quick fitting

1

Fixing collar + screws

10

Misting Timer

NOT INCLUDED